24th Oct, 2019
EBR attend launch of Cross Border Report in Leinster House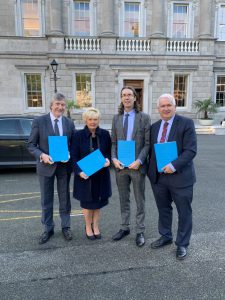 East Border Region were delighted to be invited to Leinster House on Thursday to attend the launch of the Cross Border Report: Communities and Cross Border Co-operation: Challenges and Opportunities. The report which was commissioned by the Joint Committee on the Implementation of the Good Friday Agreement highlights the difficulties imposed by BREXIT and key recommendations going forward to ensure cross border co-operation remains at the forefront of future planning and fund distribution.
This report follows representation made by East Border Region to the Good Friday Committee in February 2019.
East Border Region Chairman Cllr Aidan Campbell, CEO Pamela Arthurs and Development Officer Sharon Digby attended the launch event and are pictured with Committee Chair Sean Crowe TD, Deputies Declan Breathnach TD, Margaret O'Sullivan TD, Brendan Smith TD, Senator Niall O'Donaghaile , Senator Gerard Craughwell and Mickey Brady MP.